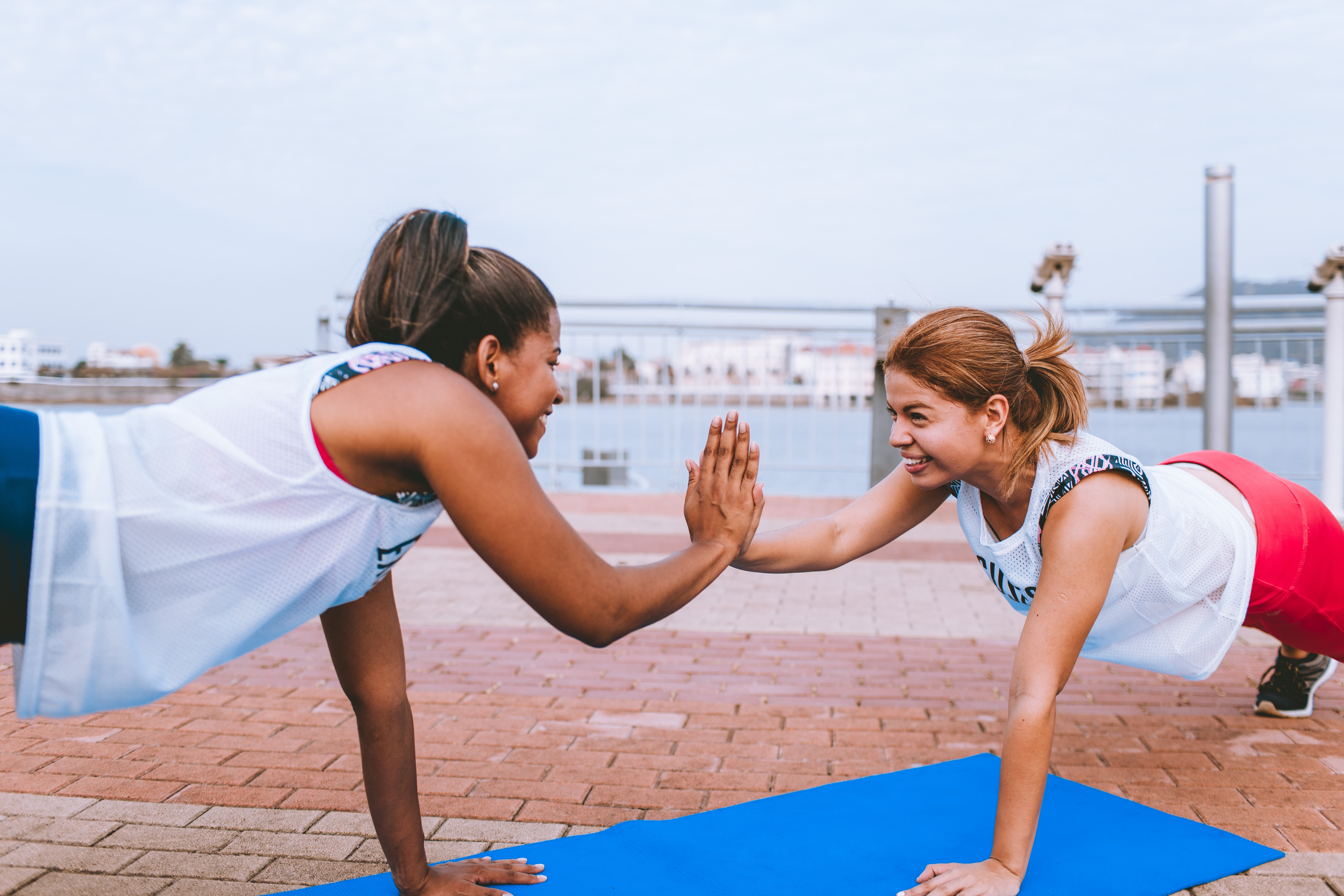 Photo by Luis Quintero on Unsplash
Camp Gladiator is a $60 million dollar Austin fitness company started by a married couple and former American Gladiator contestants. Its mission is to impact the physical fitness and lives of as many people as possible with a program of high-intensity interval training and a business model centered around group fitness classes convened outside in parks, school athletic fields, and workplace green spaces. 
Camp Gladiator and its founders were recognized by the Austin Fitness Journal's Best of Austin, they received an EY Entrepreneur of the Year nod, and the company is continually featured on the Inc. 5000 list for fastest-growing companies. It's spread to hundreds of communities with a team of full-time employees and parttime trainers. Then the pandemic shifted everything.
In February, before the world shut down, co-founder Jeff Davidson was on a fishing trip reading forums online. It didn't take long for him to appreciate the magnitude of what was emerging in Wuhan, China (1). While returning to Texas, he was in the airport and saw people deplaning from an international flight from Asia; all of the passengers had face masks. He knew this was a big deal (2). This virus could decimate their business when it comes to the United States.
Now that the world is on an extended shutdown, we have all witnessed an unprecedented shift in normal. These major changes have been disruptive and leaders are reacting the best they can. For many, these changes felt unpredictable, but is that really true? For example, virtual meetings platforms emerged more than a decade ago and virtual work has grown for some time. The magnitude may be at an expected scale, but many of the changes were on the radar of possibility. What if organizations proactively planned for potentially disruptive scenarios.
Back in the late 1960's the Royal Dutch Shell company dedicated resources to something they called "future studies" in its planning system. With uncertain futures, the aim was to engage in long-term planning and develop alternative futures based on plausible pictures of what could happen. The value was less in the prediction but more in how the probability influenced how planning processes linked with strategy, risk, innovation, and staff development and consider the future will likely not be like today (3).
Peter Schwarts described Shell's approach in his book The Art of the Long View (4). He more recently outlined a version of the approach in Wired magazine (5). The process begins with a question. The question is intended to aid you in focusing on an issue or decision. Imagine Camp Gladiator. Their question may have been: How would we serve our customers if we can't bring them together live with a group and a coach? Let's walk through Schwart's process:
Step 1 – List the driving forces

that affect the issue or decision. How might you rank the importance and uncertainty of each factor? For example, people may not be able to come out to workout groups, individual income may be impacted, workout equipment may not be available, customers may have limited flexibility.

Step 2

–

Map out possible scenarios.

Build off of the listed factors. Pick two you think are significant and consider scenarios playing off the factors. For example, people may have to workout at home and they may not have any equipment. What would services look like with those constraints? What are the varied ways we would have to deliver service?

Step 3

–

Flesh out the scenarios

– Imagine what these scenarios might look like. What might a workout program built around bodyweight exercises or using items found in most people's homes look like? What would a self-directed versus coaching model look like? How would it work if we could bring people together via a web meeting or mobile device?

Step 4

–

Brainstorm implications and actions

– moving from visioning to practical and tactical, what are the strategies required for each scenario? What would be required to design the new workouts? How do we create flexible class schedules for customers and coaches? If we go virtual, how do make access easy for all?

Step 5

–

Develop indicators

to monitor how the scenario is evolving? What would you watch? When do you act?
Camp Gladiator is a great example of a company that acted fast. Their strategic foresight to see the potential impact of the pandemic on their business didn't just save their business, it grew it. While fitness companies like Gold's Gym filed for bankruptcy. Camp Gladiator retained 97% of its clients, grew from 4000 outdoor workouts per week to 10,000 virtual workouts per week adding 20,000 new customers and $700,000 to the bottom line. 
Every organization is being disrupted directly and indirectly by the pandemic. It's too late to be proactive for what's happening to you now, but it's still possible to apply this thinking to what is possible in the future. What are the questions, issues, or decisions that are possible over the next year or more? How can your organization better flesh out what various scenarios might look like and its potential impact? How might this alter your thinking or activities in the coming months? Scenario planning is a powerful method for preparing your organizations for what's possible.
—
If this was helpful, share and include me @DaveWilliamsATX. Subscribe to receive a monthly curated email from me that includes my blog posts and Improvement Science resources I think you'd appreciate.
References